Archive for the 'guest blogger' Category
Exploring what we know – Marna Gatlin, Founder Parents via Egg Donation and guest blogger
I was asked recently what I thought about embryo donation vs. egg donation. Is a parent via egg donation the same as a parent via embryo donation?  What do they have in common?  Or are they very different?
My knee jerk reaction was "Well doh, of course they are the same.  They are both embarking upon a unique journey to become parents right?"
When I thought more about it, the word "versus" jumped out at me.  Did the individual asking the question really mean "versus" as in against, or in contrast to?
Are the two mutually exclusive?
When I think of egg donation and embryo donation, I think about the word "AND" – I don't think of it as an either or.  Both are just different ways of either growing or adding to your family.
Some approach embryo donation with great trepidation because they worry about the bonding process, or about the explanation or story they will be sharing with their child. The reality is – the path might be different but at the end of the day the goal is the same – you are becoming a parent.
Let's delve a little deeper.  If you receive a donor egg, the genes of your baby are going to be combined with the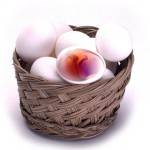 genes of your husband (or partner) and those of your egg donor. Or if you are a single mother, or women in a same sex relationship, the donor egg will be combined with donor sperm.  You will probably undergo what we call a fresh embryo transfer.  You will carry that baby for nine months and then deliver that baby.  Women often wonder if there's a down side to carrying a baby that is not genetically related to them.  You know this is an age old question that's been asked and answered since the early 80's when the first donor egg child was conceived, carried, and delivered. I can tell you as a parent via egg donation myself that it doesn't matter.  I carried my son for nine months.  The bond I created with him is rock solid, loving, and he's my son. The lack of genetic connection simply doesn't matter.  Not one iota.  The very same thing happens with embryo donation recipient parents who are receiving truly a meaningful gift of life.
The most beautiful aspect of embryo donation to me is that embryos that are being placed for donation are done so purposely. These are embryos that the donating parents know have created amazing children who are loved, honored and cared for.  These donating parents want to make sure their embryos are donated to a home that will love, cherish and honor the resulting children as they would. Regardless of whether an individual has a child via egg donation or embryo donation, the fears of parenthood almost always focus on the unknowns. And here's a secret:  they are also experienced by those who are conceived naturally.  Moms and Dads all over the world have the same worries about parenting as do parents via egg donation and embryo donation.
Parents via egg donation often ask questions such as:
Am I going to screw up my child?
Will my child love me?
How am I going to relate to my child?
Will my parents and other family members accept my child?
How and when will I share information about their conception?
When we look at embryo donation the questions that we find unique to embryo donation are:
Are we protected legally, can the donating parents come back and claim our child in the future? (The answer is NO, they cannot.  That's why it's important to have a clear legal contract.)
Will my child have access to information about his or her health in the future?
Will my child have siblings and if so, will they have the opportunity to know them?
Will my child or children see me as their real parent?
How will I explain this to my family or friends?
What about stupid comments from those around me?
How and when will I share the information about my child's conception with my child?
To me there is no difference between being a parent via egg donation or a parent via embryo donation.  The end result is the same.
At the finish line we are simply Mom and Dad.
Marna Gatlin
Parents via Egg Donation
www.PVED.org | marna(at)pved.org
A little bit about Marna…

After many years of struggling with infertility, PVED founder Marna Gatlin discovered that the technology to have a child through egg donation was available. She was curious, excited, and above all, hopeful that this process might be the conduit to finally achieving her lifelong dream of becoming a parent.

Marna ensures that all the needs of egg donor recipients are met, maintaining a high standard of ethics and confidentiality. Marna advocates and assists recipient parents, helping them arrange for the highest quality patient care, wherever in the world they reside. Her experience and knowledge related to the complex emotional and physical needs of individuals dealing with infertility makes her an essential asset PVED.

As a previous recipient, Marna is uniquely qualified to provide caring and timely services. Marna is truly dedicated to compassionately guiding couples experiencing infertility through their treatment process.

Marna is joined by several dedicated and knowledgeable support staff that all work together clearly dedicated to see the success of PVED. These include clinical psychologists, reproductive endocrinologists, attorneys, as well as a talented business and public relations team.

Marna attended Eastern Oregon University and Portland State University majoring in Business, Psychology, Social Science, and is a member of the American Society of Reproductive Medicine (ASRM), the European Society of Human Reproduction and Embryology (ESHRE) and the Society for Assisted Reproductive Technology (SART). Marna, a writer, is married, has a son, and does some of her best thinking and creating atop of her John Deere tractor mowing and cultivating her back forty.