Archive for the 'ASRM' Category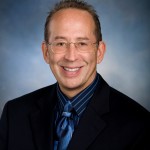 Craig R. Sweet, M.D
Reproductive Endocrinologist
Practice and Medical Director
Embryo Donation International
Introduction
In my last blog, "Why Creating 'McEmbryos' is Just Plain Wrong," I wrote about my concerns regarding the creation of an embryo bank at a California clinic. In this follow-up segment, I want to re-state the issues, discuss the past history of embryo banking in the U.S., provide a list of recently written thoughtful blogs on the topic, offer possible solutions to the dilemma and discuss where we should go from here.
A "Reader's Digest" version
California Conceptions (CC), as outlined in Alan Zarembo's L.A. Times article apparently combined donor eggs with donor sperm and divided the resulting embryos among a number of embryo recipients. This process is commonly called a "split or shared donor/donor cycle" but was called "embryo donation" by CC. Any embryos remaining, after the recipients received their allotment, would be cryopreserved and owned by CC.
The road was paved with good intentions
I feel that CC was really trying to offer a cost-affective alternative for patients and that its true intent was to keep the size of its embryo bank as small as possible. Even with good intentions, however, it is quite likely that the embryo bank will grow. In addition, to sanction the creation of a small embryo bank will almost certainly result in the creation of larger embryo banks across the country. These banked embryos for commercial use are what I called "McEmbryos." There also needs to be a clear distinction between embryo banking for commercial use and the process of banking one's own embryos (i.e., collecting through multiple IVF retrievals) to be used by individuals to build their families in the future.
I still have three main concerns:
I do not feel that embryo banks are appropriate and could result in a plethora of unintended consequences.
I feel that corporations, businesses or physician practices should not own embryos.
Lastly, the process of a "split or shared donor/donor cycle" should be called "embryo creation" or, at the very least, not called embryo donation.
This has happened before
An article by Gina Kolata in the New York Times in 1997 revealed that "ready-made embryos" were already being made for "adoption." Columbia-Presbyterian and Reproductive Biology Associates were named in the article as providing "premade" embryos to patients. According to the article, most of the embryos were created when donor egg recipients backed out of the process, but the egg donors still underwent the egg retrieval; their subsequent retrieved donor oocytes were combined with donor sperm. Lori B. Andrews, a professor of law at Chicago-Kent College of Law, was quoted as having concerns about the supermarket approach to embryos while the clinicians thought it wasteful to not retrieve and fertilize the donor oocytes if the egg donors were ready for the retrieval.
In 2007, Center for Genetics and Society Senior Fellow and UC Hastings Law Professor Osagie Obasogie wrote an op-ed for the Boston Globe about a Texas center that had created an embryo bank. He was concerned about the "Wal-Martization" of human embryos, a phrase similar to my "McEmbryos."
In November of 2012, in response to the N.Y. Times article, Jessica Cussins of the Center for Genetics and Society wrote an excellent blog on the topic, also following-up on the 2007 article by Professor Obasogie. The Texas center was eventually closed and was the subject of an FDA investigation, which eventually found that the creation of an embryo bank did not fall under FDA jurisdiction. John Robertson, Esq., wrote an excellent commentary on the topic in the Bioethics Forum in that same year.
Embryo banks have come and gone, garnering media attention and criticism and I believe it is finally time to set some ethical standards of care about them.
How New York decided to handle the embryo bank issue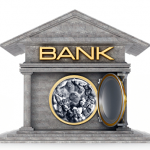 Almost five years ago, the state of New York issued regulations for tissue banks and nontransplant anatomic banks, addressing the potential of creating embryo banks:
Embryos shall not be created for donation by fertilizing donor oocytes with donor semen, except at the request of a specific patient who intends to use such embryos for her own treatment. [NYS 52-8.7(h)]
Embryos were not to be created to store in embryo banks but only created at the behest of a specific patient and subsequently owned by that patient. Simply modifying the statement above to include "… such embryos for his/her own treatment," would address the issue adequately, with the sentence potentially used by various organizations as they hopefully set ethical standards of care.
Potential consequences to the creation of an embryo bank
I have been called an alarmist by some for bringing up what I feel are the following potential dangers of having embryos banks in the U.S:
If a small embryo bank is allowed to flourish, then large embryo banks will most certainly follow.
Poorly designed and reactive legislation may be created on the state or national level as there may be further calls to regulate what are perceived to be "unregulated IVF facilities."
"Personhood" advocates may become further emboldened to win personhood for the embryos to protect them from becoming "McEmbryos."
I don't think these unintended consequences are that farfetched and need to be considered carefully should embryo banks continue unchecked.
My reluctant decision to come forward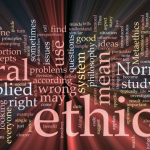 About the last thing I wanted to do was to comment on another reproductive endocrine practice comprised of caring staff members dedicated to the care of their patients. I have been criticized for taking such a stand and accused of doing this purely for competitive reasons. In reality, I have been working with the American Society for Reproductive Medicine's (ASRM) and the Society for Assisted Reproductive Technologies, (SART)  since October of 2011, trying to elicit a set of guidelines prior to the writing of my blog. I far preferred to stay out of the limelight and let the "powers-that-be" decide what should be done next. When the L.A. Times article was published, it de-emphasized the ethical issues and potential unintended consequences of the CC embryo banking practice, so I felt I had no choice but to bring the topic up front and center.
Others responded to the discussion
Several other infertility professionals discussed the ethical issue in articles or blogs in the weeks following the L.A. Times piece. Excluding those that simply summarized the situation, I listed below what I think are some of the better blogs:
Supporting embryo banking
Neutral to embryo banking
Against embryo banking
My thanks to all of the authors for taking the time to discuss the issue in an open forum.
Proposed remedies to the current dilemma
From the beginning, I have been offering remedies to the embryo bank dilemma. Although far be it from me to tell CC how to run its business, these are a few ideas I had to offer:
Only patients should own embryos-
No organization, corporation or physician practice should own embryos except in the most extreme circumstances, such as embryo abandonment. With embryo donation, it is most appropriate that the donor facility simply holds the embryos, with the donors still being able to request the return of their embryos, up to the point of transfer into the recipients, should a catastrophic occurrence take place, Attorneys refer to this as being a guardian, a conservator, or a temporary holder of goods. When presenting at the American Bar Association Family Law Section Spring conference in April of 2012, many of the attorneys there strongly supported the concept of conservatorship of the donated embryos over facility ownership.
If the embryos are returned to the donor, it seems appropriate to ask the donors to reimburse the embryo donation facility for all reasonable fees expended in originally obtaining the donated embryos and returning them to the donors. We have been running our embryo donation program this way for over 12 years and we encourage others to do the same.
Excess cryopreserved embryos could be owned by patients-
As best as I can surmise for CC, their business model is to recruit a number of embryo recipients and then transfer 1-2 donor/donor embryos into each recipient. I suggest that any remaining embryos be owned by one or more of the recipients and the entire cycle should not move forward until at least one patient agrees to take the extra cryopreserved embryos, should any exist. Extra charges could be levied to those that secure the remaining embryos. In this way, no embryos remain to create an embryo bank and the CC business model remains essentially intact.
Renaming the process-
The combination of donor sperm with donor eggs and then calling them donated embryos does not fit with the ASRM definition of embryo donation (Ethics Committee of the ASRM, 2009). Embryo creation is a far better term or "shared or split donor/donor cycle" is perhaps even more appropriate. Calling such embryos donated embryos debases the amazing gift that embryo donors provide when donating their embryos.
Who should set the standards?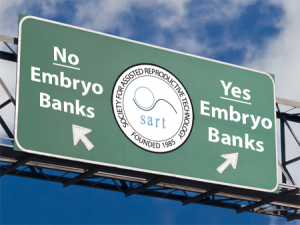 SART has reviewed the concerns stated in my previous blog but I don't think it yet has arrived at a
conclusion. My understanding is that the ASRM Ethics Committee is to take up the topic during the early months of 2013. As our main guiding societies, I believe they need to take the lead, develop position statements and provide ethical standard of care guidelines for all practices to use.
Once ASRM and SART have provided ethical standard of care guidelines, I will next request that the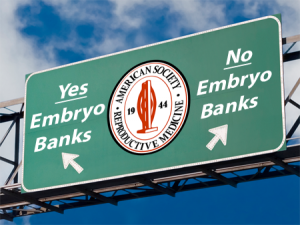 Canadian Fertility and Andrology Society and the European Society for Human Reproduction and Embryology (I am a member of both) consider the topic and respond with their own recommendations if they see fit.
It is not out of the realm of possibility that numerous societies could collaborate to form a consensus, such as they did when they banned the support and publication of human reproductive cloning research.
Summary comments
So where are we now on this dilemma? SART has discussed the topic but summary statements are pending. The ASRM Ethics Committee will soon meet, with the embryo bank topic apparently on the agenda. Assuming the Ethics Committee feels the topic has merit, I am uncertain how long it will take for them to release a position statement. I am hopeful that "the powers that be" will be attentive in finding a compromise that will allow CC to continue to offer their skilled reproductive services while preventing the formation of an embryo bank, no matter the size, further clarifying who should own embryos as well as the definition of embryo donation as it pertains to the current situation.
I don't know about you but I don't really like the idea of "McEmbryos," or the commodification and "Wal-Martization" of human embryos. Patients should own them and decide their destiny. I am hopeful that our guiding societies will do just that – guide us on this sensitive and important topic.
Special thanks:

Thanks to Grace Centola, Ph.D., for helping to find the New York State statutes pertaining to embryo banking.

Thank you to Jessica Cussins for her blog on the topic, the reference by Professor Obasogie and her followup on the now closed Abraham Center for Life.
References:

Ethics Committee of the American Society for Reproductive Medicine. American Society for Reproductive Medicine: defining embryo donation. Fertil Steril. 2009 Dec;92(6):1818-9
.

One of the most enjoyable aspects of attending a large professional meeting like the American Society for Reproductive Medicine Annual Meeting is connecting with colleagues, many of whom I had not yet met in person but had gotten to know virtually either via email or through social media.
Some of the highlights of this year's conference include several delighting conversations and discussions with the following thought leaders in the infertility field:
Mikki Morrissette:
It was a pleasure to meet Mikki at ASRM. We discussed the potential option of having members of the Choice Mom community be able to donate directly to other Choice Mom members in either an open or anonymous fashion. While the details need to be worked out, I can't help but think that the option is there for this group and others who would desire the same.
Barbara Collura
Executive Director of RESOLVE: The National Infertility Association
http://www.resolve.org/about/barbara-collura-executive-director.html
Barb knows everything and everyone about infertility. She is the go-to-person for all issues involving infertility patient advocacy. As always, it was a pleasure and a learning experience in speaking to her. If I need to know what is really going on, she is the person I ask. I think we will be working quite closely together in the months to come and I know I will learn a tremendous amount from her.
Dawn Gannon
Chair-Elect at ASRM Women's Council
Professional Outreach Manager at RESOLVE: The National Infertility Association
http://www.linkedin.com/profile/view?id=25083876&locale=en_US&trk=tyah
Having spent time with Dawn at other meetings, she is consistently engaging and knowledgeable and always has a smile on her face. She was one of a few women that I knew at the ASRM Women's Council meeting, where I truly felt like the odd duck out. I know I will see her at other meetings and it is always enjoyable to spend a few moments with her.
Megan Fabian
Manager, Development and Outreach, Nightlight Christian Adoptions
www.Nightlight.org
Sitting next to Megan during the discussion regarding the personhood amendment was an interesting experience. Understanding that Nightlight is a pro-life organization, I winced a few times as speakers spoke about such individuals with condemnation. Understanding that this is a free society, I feel we should embrace their views as we equally embrace the views offered by pro-choice individuals. In speaking with her afterwards, I think Megan saw, perhaps for the first time, why some of us are so very concerned with using the phrase "embryo adoption," understanding that assigning personhood to embryos would result in a host of unintended consequences that have the potential to change so much in the world of infertility and women's healthcare. Even though EDI is not faith-based, we clearly had more in common than not in our united desire to reduce the number of cryopreserved embryos discarded or abandoned and building families whenever we can.
Dawn Davenport
http://www.creatingafamily.org/
Dawn is the executive director of Creating a Family, a nonprofit providing a tremendous amount of educationand support for infertility and adoption. While I had the pleasure of interacting with her online, this was my first opportunity to meet her. She is lovely, very bright and quite tall (I say that of many women as I am only 5'7″ on a good day). EDI may very well work closely with her in the future as we all try to decrease the number of cryopreserved embryos discarded or abandoned while "creating a family" where one would otherwise have not existed.
Amy Demma, Esq.
http://www.lawofficesofamydemma.com/
I wish I had a chance to spend a bit more time with Amy as we were both so very busy at this recent ASRM meeting. She is the absolute queen of social media and brings a tremendous amount of expertise, energy and enthusiasm to the medium. Perhaps we will have time to connect in San Francisco at the upcoming American Association Assisted Reproductive Technology Attorneys (AAARTA) meeting. She is a gem and has a wealth of knowledge and contacts in the field of reproduction.
Davina Frankhauser, M.A.
This bright and insightful young woman is bringing a much-needed perspective to the world of infertility. She and Sandra O'Keefe founded Fertility within Reach™,which serves as an educational resource to increase access to ART for those who need it. I believe as a field, we will find her knowledge and connections invaluable in advocating for infertility awareness and equality as we protect the rights of the infertile patient while  facing off against those that believe the infertile patient is utterly expendable as they push for the personhood of embryos.
Judy Weiss, R.N.C.
Judy is a "mench," a doer of good deeds. As a previous egg donor nurse coordinator who has decades of infertility counseling experience, her clear goal is to help find Jewish egg/sperm donors and surrogates for Jewish families. Understanding that many embryo donation centers are faith-based and frequently aligned with Christianity, she understood the ultimate value of Embryo Donation International. Since we are not faith-based and non-discriminatory, and a potential source of donated embryos with Jewish ancestry, she is excited to offer potential recipients our program. In addition, for those Jewish families who have excess cryopreserved embryos, we will provide a conduit to embryo recipients with similar heritage. I can tell we are going to get along great and work together creating families who would otherwise not exist.
Robert L. Klitzman, M.D.
Columbia University College of Physicians and Surgeons
http://www.amazon.com/Robert-Klitzman/e/B001H9TTMI/ref=ntt_dp_epwbk_0
http://en.wikipedia.org/wiki/Robert_Klitzman
http://asp.cumc.columbia.edu/facdb/profile_list.asp?uni=rlk2&DepAffil=Psychiatry
It was interesting that the two of us showed up to the Legal Professional Group meeting, for which we are both members though neither of us are in the legal profession. Robert and I hit it off a couple of ethical dilemmas as we walked to another meeting. I was envious to learn that he had the opportunity to earn his master's degree in medical ethics. Upon returning home, I soon discovered the number of books he has
written and can't wait to pour over them. I can't help but think we have a great deal in common and look forward to getting his input on a host of issues involving embryo donation and reproductive medicine.
Kathryn Kaycoff-Manos
Co-founder, Global IVF
http://www.globalivf.com/
It was lovely chatting with Kathryn Kaycoff-Manos, one of the directors of Global IVF, a Web resource for infertility consumers from all over the world who are looking for information about infertility treatment in
foreign countries. This can mean Americans looking for more affordable treatment options, especially for third party alternatives, as well as people from Europe, South America and Asia who must seek treatment elsewhere because of legal and accessibility restrictions in their home country. I am excited about the potential of collaborating with Global IVF on the international aspects of Embryo Donation International.